When Does Maryland Deviate From The Child Support Guidelines?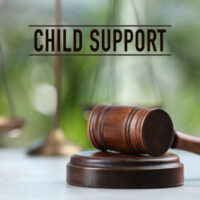 Maryland family law requires parents to provide necessary support and care to their children. When parents are married or live together, they typically divide child support obligations without court intervention. But for divorced and unmarried parents, the determination of child support obligations usually resides with the Maryland courts.
To help ensure that any award of child support is fair to both parents, Maryland created the Child Support Guidelines (the "Guidelines"). The Guidelines take each parent's actual income — adjusted for various factors — and divide support obligations proportionally between both parents.
From a legal standpoint, there is a rebuttable presumption that the Guidelines are fair, balanced, and equitable to both parents. But it is possible to provide evidence to counter this presumption. And the Maryland courts may rely on such evidence to deny or modify a request for child support.
When is it Unfair to Award Child Support Using the Guidelines?
Maryland Code of Family Law Section 12-202 explains how the Guidelines can lead to an unfair or inappropriate result. In this context, the Maryland courts will consider the terms of any existing agreement or court order that relates to:
Marital separation or property division;
Use and possession of the family home;
Direct payments made for the benefit of the children in question; and
Other financial considerations, including payment of mortgages, debts, or education expenses.
In addition, the Maryland courts will consider whether either parent owes child support obligations concerning other children living in the same home. But this consideration cannot be the sole factor in determining a child support award to be unfair or inappropriate.
Finally, the Maryland courts will consider whether an award of child support will force a parent below 110 percent of the federal poverty level.
Ultimately, the Maryland courts utilize the Guidelines to ensure that any award of child support is fair and balanced to each parent involved. If such an award creates an unreasonable or inappropriate burden on either parent, the Maryland courts may deviate from the Guidelines.
What Happens if the Courts Deviate from the Guidelines?
Section 12-202 also details the court requirements for deviating from the Guidelines. If a Maryland court determines that the Guidelines would be unfair or inappropriate in a particular case, it must make a finding and state:
The amount of child support required under the Guidelines;
How the court intends to deviate from the Guidelines;
How the deviation will protect the best interests of the children involved; and
The estimated value of property or items conveyed, if any.
Do You Need Legal Help?
If you need legal assistance with Maryland rules governing child support, it can be highly fruitful to contact a steadfast Bel Air child support attorney. Based in Bel Air, Maryland, the attorneys at Schlaich & Thompson, Chartered have more than 60 years of combined legal experience in family and criminal law, including child support. If you need legal help, contact us today for an initial consultation.
SOURCE:
mgaleg.maryland.gov/mgawebsite/Laws/StatuteText?article=gfl&section=12-102&enactments=False&archived=False