Police Search For Robber On Maryland's 'Most Wanted' List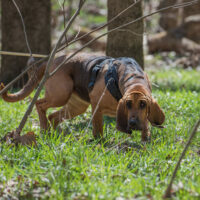 Police continue to search for a Maryland woman on the state's "Most Wanted" list in connection with a string of bank robberies, according to an article by Fox Baltimore. This woman apparently transitioned into bank robbery from a career in exotic dancing.
Law enforcement indicated that there are multiple warrants for the arrest of this 26-year-old woman. With the aid of an accomplice, this woman allegedly robbed five banks across Baltimore City, Baltimore County, and Anne Arundel County in April of 2021.
Interestingly enough, the authorities arrested this woman on April 19, 2021 after a botched getaway.  A judge then released the woman from police custody during court proceedings. But the woman did not appear at her next court date. An arrest warrant was issued, but this woman has evaded the authorities for almost 12 months.
The U.S. Marshals Service continues to investigate this matter and recently connected this woman to the fifth bank robbery. But despite ongoing efforts, the authorities cannot locate this woman. Apparently, she travels frequently along the U.S. east coast and, thus, could be in any number of places.
While law enforcement maintains their search for this "Most Wanted" fugitive, it seems like a proper moment to review the Maryland definition of and punishment for robbery crimes.
Maryland Definition of Robbery
The definition of robbery appears at Maryland Code of Criminal Law Section 3-401. Under this section, Maryland adheres mostly to the common law definition of robbery. In other words, robbery occurs when a perpetrator:
Takes property that belongs to the victim; and
Uses force or the threat of force to complete the act.
On top of the common law definition above, Section 3-401 clarifies that robbery can involve obtaining services by force or the threat of force. In this context, the term "services" can refer to:
Labor or professional services;
Telecommunication, public utility, toll facility, or transportation services;
Lodging, entertainment, or restaurant services; or
Computer, data processing, or other equipment services.
In addition, Section 3-401 requires robbery to include proof of an intent to withhold the property in question:
Permanently;
For a period that results in appropriation of the property's value;
With the intention of securing a reward or ransom; or
In a manner that makes the owner unlikely to recover the property.
Maryland Punishment for Robbery
The punishment for robbery appears at Maryland Code of Criminal Law Section 3-402. Under this section, robbery is a felony crime. Any person convicted for robbery in Maryland can face criminal fines and a maximum prison sentence of 15 years.
Do You Need Legal Help?
If you need legal assistance with robbery or other charges in Maryland, we can help. Reach out to the Bel Air robbery attorneys at Schlaich & Thompson, Chartered today for a consultation.
Source:
foxbaltimore.com/news/marylands-most-wanted/marylands-most-wanted-fugitive-connected-to-yet-another-bank-robbery-records-show