Joint Custody Agreements in Maryland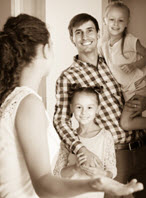 Child custody is one of the most important considerations in life for parents who divorced or never married. In these situations, it is generally advisable to keep both parents involved. That way, the child or children involved can develop solid relationships with both parents. To help facilitate the physical and legal considerations of sharing child custody, Maryland law allows parents to enter into a joint custody agreement.
What is a Joint Custody Agreement?
A joint custody agreement is essentially a contract concerning child custody between two parents. These agreements break down exactly how two parents will share physical and legal responsibility for the child or children involved.  Any child custody agreement or written parenting plan must be incorporated into a court order to be fully recognized by and enforceable through the courts.
In considering whether to approve a joint custody agreement, the Maryland courts must consider many factors, including but not limited to the:
Best interests of the child involved;
Relationship between the parents;
Ability of each parent to handle parental duties;
Preference of the child, if applicable;
Financial status of each parent;
Relationship between each parent and child;
Child's age and siblings, if applicable;
Proximity of each parent's home to child's school;
Stability of child's academic and home lives; and
Potential benefits to each parent.
At the most basic level, a joint custody agreement will outline a mutual understanding between parents regarding shared physical and legal custody. These agreements generally provide a mechanism for conflict resolution, in case the parents cannot agree on a specific aspect of the child's life.
What is the Difference Between Physical & Legal Custody?
Concerning the health and welfare of children, there are typically two different types of parental custody under Maryland law:
Physical Custody — This refers to the place where the child lives. In a shared physical custody arrangement, the child alternates between each parent's home on a defined schedule.
Legal Custody — This refers to ability to make major decisions on behalf of the child. In a joint legal custody arrangement, both parents jointly make decisions on the child's behalf, including but not limited to health, schedule, religion, etc.
In any joint custody arrangement, the parents involved must be able to interact regularly and efficiently. Otherwise, they will not be able to make joint decisions on behalf of their child or children.
What Happens if the Parents Cannot Reach a Custody Agreement?
If the parents involved cannot reach mutual agreement concerning joint custody, then the Maryland courts will step in. The state courts may order the parents to attempt mediation or complete a joint parenting course. As a last resort, the Maryland courts can conduct a trial to evaluate physical and legal custody. Then the state courts can award any combination of sole or joint custody over the children involved.
Contact Us Today for Help
If you have legal questions about joint custody agreements in Maryland, it can be immensely valuable to speak with a prominent family law attorney. The Bel Air joint custody agreements attorneys at Schlaich & Thompson, Chartered have more than 60 years of combined legal experience in family and criminal law, including joint custody agreements. If you need legal help, contact us today for an initial consultation.