Is It A Maryland Gun Crime To Allow Kids Access To Firearms?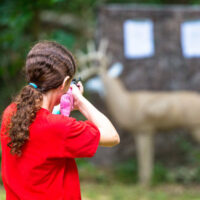 Under Maryland state law, it is usually a gun crime to allow a child to access a firearm. The reason is simple, children die each year while handling firearms without supervision. Accordingly, Maryland makes it a criminal offense to allow children to access loaded firearms without appropriate supervision.
What are the Laws Against Allowing a Child to Access Firearms?
The laws against allowing a child to access firearms appear under Maryland Code of Criminal Law Section 4-104. This section makes it unlawful to knowingly allow a child to access a loaded firearm without supervision.
To qualify as a violation, the alleged offender must know, or have a reason to know, that a child could gain access to the firearm in question. Furthermore, the firearm must be loaded with ammunition.
In this context, there are several important definitions and clarifications under Section 4-104, including:
The term child refers to an individual under the age of 16 years old;
The term firearm refers to a handgun, rifle, shotgun, or other weapon defined under Maryland Code of Criminal Law Section 4-201;
The term firearm does not refer to an antique firearm defined under Section 4-201; and
The term ammunition refers to a cartridge, shell, or similar device designed for use in a firearm.
Are there Exceptions to Allowing a Child to Access Firearms?
There are several exceptions to Section 4-104 under Maryland state law. More specifically, this section does not apply if:
The child accesses a firearm under the supervision of an adult who is at least 18 years old;
The child gains unlawful entry into a structure and, as a direct result, also gains access to a loaded firearm;
The child has a certificate for hunting and firearm safety, in accordance with Maryland Code of Natural Resources Section 10-301.1; or
The firearm is in the possession or control of a police officer in the performance of their official duties.
What is the Penalty for Allowing a Child to Access Firearms?
Section 4-104 also furnishes the penalty for allowing a child to access a loaded firearm. This is a misdemeanor offense under Maryland law, punishable by a maximum of $1,000 in criminal fines.
There are additional considerations for a violation of Section 4-104. Under Maryland law, these violations may not be:
Considered as evidence of negligence or contributory negligence;
Used to limit the liability of a victim or an insurer;
Diminish the recovery for damages relating to the ownership, maintenance, or operation of the firearm or the ammunition; or
Referred to during a civil trial that involves property damage, personal injury, or death.
Contact Us Today for Help
If you have legal questions about gun crimes under Maryland state law, contact the Bel Air criminal defense attorneys at Schlaich & Thompson, Chartered. We can assist you throughout each step of your case.