How Does a Military Deployment Affect Child Visitation Rights in Maryland?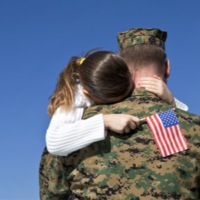 Child visitation is an aspect of Maryland family law that enabled divorced and unmarried parents to spend time with their children. In many of these situations, both parents will share child custody and responsibility for child care.
But if one parent has sole custody of the child in question, then the other parent may request visitation rights to maintain a relationship with their child. Visitation rights are also available to other family members, such as grandparents, in specific situations.
Furthermore, Maryland family law includes special considerations for parents who have a military deployment that forces them away from the state and their child.
What Qualifies as a Deployment Under Maryland Family Law?
Maryland Code of Family Law Section 9-108 defines what qualifies as a deployment. Under the law, this term refers to compliance with military orders for the United States Army, Navy, Air Force, Marine Corps, Coast Guard, National Guard, or any Reserve component of the aforementioned branches.
To qualify as a deployment, the military orders in question must relate to:
Participation in combat operations;
Unaccompanied attendance for other active service operations; or
Involvement in remote service operations.
On a related note, Section 9-108 specifically excludes certain military activities from the definition of a deployment. More specifically, the following National Guard or Reserve activities are not considered deployments under Maryland family law:
Annual trainings;
inactive duty days; or
Drill weekends.
How Does Maryland Family Law Accommodate Visitation for Deployments?
Section 9-108 also clarifies how Maryland accommodates visitation rights for deployments. When a state court enters a child visitation order involving a deployed parent, it must also require that:
The other parent reasonably accommodate the leave schedule of the deployed parent;
The other parent facilitate opportunities for the child to connect with the deployed parent through electronic communication; and
The deployed parent provide timely information regarding their leave schedule to the other parent.
Is it Possible to Adjust Visitation Rights in Maryland After a Deployment Ends?
Section 9-108 also highlights a number of important considerations for the end of a military deployment. More specifically, the deployed parent may ask the Maryland state courts to modify the child visitation order after their deployment ends.
If the parent files such a petition within 30 days of the end of their deployment, the Maryland state courts will schedule an expedited hearing. During this hearing, the court will evaluate whether modifying the child visitation order will serve the best interests of the child involved.
Contact Us Today for Help
If you have legal questions about child visitation rights or other aspects of Maryland family law, it can be exceedingly helpful to schedule a consultation with a knowledgeable Bel Air family law attorney. Contact us today at Schlaich & Thompson, Chartered for help.
https://www.stclaw.net/overview-of-maryland-approach-to-child-support-obligations/