Establishing Or Disestablishing Paternity In Maryland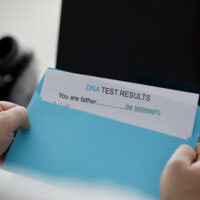 A paternity case filed in 2017 dealt with an issue raised by a college student who had signed paperwork stating that he was the father of his girlfriend's baby. In this case, the father sought to disestablish paternity after he found out that his girlfriend had other lovers. In 2014, the two had begun a sexual relationship. They parted ways after the semester ended, and then resumed their relationship in September when school started back up again. The mother told the father that she was pregnant and the baby was his. They both signed Affidavits of Parentage. However, the baby arrived in May. The date of conception would have been September. He later did the math and realized that the baby must have been conceived in August when the two were not together. The father went to court attempting to get the Affidavit of Parentage thrown out. However, 60 days had elapsed between the time that he signed the affidavit and when petitioned the court to have the affidavit thrown out.
After 60 days, it becomes much more difficult to disavow yourself of parentage after the Affidavit of Parentage has been signed. The petitioner must establish that the affidavit was signed under duress, that they were the victim of fraud, or that there was a material mistake of fact.
The father argued that he was under the mistaken belief that he was the father of the child, but later, he came to realize that he was not. In other words, he made a material mistake in fact. A trial court threw out the father's case, but he appealed. An appellate court ruled that Maryland courts have a duty to hold parents responsible for their children. They further concluded that the support of the children should not come by imposing the obligation on someone who is proven not to be the biological father of the child. Courts have an obligation to discover the truth in cases such as these.
The importance of this decision 
Paternity must be established by biological testing in cases such as these. The courts will not impose a duty on any man who is proven not to be the biological father. Even though the bar is high in cases that are brought before the court after 60 days of signing an Affidavit of Parentage, the father was able to get the document thrown out. The appellate court ruled that the courts have a vested interest in determining the actual biological parents of the children. This, of course, is an issue of the rights of a man who is being told he is the biological father of a child when he is not.
Talk to a Bel Air, Maryland Paternity and Divorce Attorney Today 
Schlaich & Thompson represent the rights of fathers in paternity disputes. Call our Bel Air family lawyers today to schedule an appointment, and we can begin discussing issues relevant to your case immediately.
Source:
mdcourts.gov/data/opinions/cosa/2017/1486s16.pdf