Analyzing 4 Common Agreements in Maryland Family Law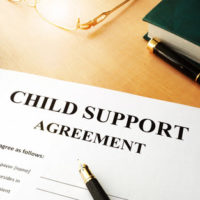 Maryland family law provides for numerous types of legal contracts and agreements between prospective or current spouses and parents. From prospective spouses who enter into a prenuptial agreement to parents who share custody of their children through a joint custody agreement, these contracts can take many different forms. Even though they normally change drastically from case to case, these agreements commonly arrive in one of four different varieties.
Prenuptial Agreements
Prenuptial agreements are legal contracts that prospective spouses enter into before marriage. Once the couple becomes officially married, any prenuptial agreement will become valid.
As detailed in Maryland Code of Family Law Section 8-101, prenuptial agreements may relate to:
Alimony, maintenance, or spousal support;
Child custody, care, visitation, or support; and
Property or personal rights.
As established in Maryland Code of Family Law Section 8-103, however, the Maryland courts have the authority to modify any provision of a prenuptial agreement that relates to minor children. This ensures that the state courts are free to take action to protect the best interests of any children involved.
Postnuptial Agreements
Postnuptial agreements are the mirror image of prenuptial agreements. But instead of being executed before marriage, postnuptial agreements are entered into after marriage. Postnuptial agreements are typically governed by the same considerations as prenuptial agreements, namely Sections 8-101 and 8-103 described above.
Marital Separation Agreements
Marital separation agreements allow a married couple to amicably and mutually pursue a divorce. As provided in Maryland Code of Family Law Section 7-103, these agreements are only valid if the married couple executes a written agreement that resolves any and all issues relating to:
Alimony, maintenance, or spousal support;
Property distribution, including but not limited to use and possession of the family home; and
Child custody, care, visitation, or support, if the married couple has any minor children together.
In the case of a marital separation agreement that involves minor children, there is an additional requirement. The Maryland state courts must review the agreement and ensure that it will safeguard the best interests of the children involved.
Joint Custody Agreements
Joint custody arrangements allow divorced or unmarried parents to share the responsibility of raising and caring for their children in common. These agreements can usually share physical and legal custody, enabling both parents to spend time with their children and have a voice in important decisions concerning their children.
From a general standpoint, joint custody agreements will outline where the child lives, how much each parent pays in child support, holiday visitation schedules, decision-making power for medical situations, and many other important considerations.
Given that joint custody agreements involve the care and custody of minor children, these contracts are subject to court approval. Above all else, the Maryland courts have a duty to safeguard the best interests of any children involved.
Do You Need Legal Help?
If you have legal questions about contracts or agreements, contact the skilled Bel Air family law attorneys at Schlaich & Thompson, Chartered. Our team is prepared to assist you throughout each step of your case.
https://www.stclaw.net/what-is-the-maryland-difference-between-rape-in-the-first-second-degrees/