3 Types of Adoption Under Maryland Family Law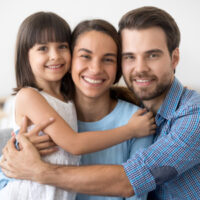 Adoption under Maryland family law is a legal process that reassigns parental rights and responsibilities from birth parent to adopting parent. Adoption generally involves children. Though in certain cases, adoption cases involve adults, often those with special needs.
To initiate the adoption process, a request for adoption must be filed with a Maryland state court. Usually, birth parents have a chance to consent or object to the adoption request. But sometimes adoption occurs without consent or objection from the birth parents. Either way, there is an investigation and hearing in the state courts.
To complete the adoption process, a Maryland state court must review and approve of the new parent-child relationship. The state courts are bound to consider a child's best interests before approving any such request.
After a Maryland court approves an adoption request, the new parent-child relationship has the same legal significance as the original relationship. Stated otherwise, adopting parents become the full legal guardian with complete child custody rights.
In common practice, there are three types of adoption under Maryland family law — Public Agency, Private Agency, and Independent adoptions.
Public Agency Adoptions
Under Maryland Code of Family Law, Title 5, Subtitle 3, public agency adoptions occur when the State of Maryland becomes the guardian of a child. This outcome often arises in the case of a child in need of assistance (CINA) or if there is evidence of abuse, neglect, or abandonment. In these situations, the Maryland Department of Human Services places children for adoption with a public agency.
Private Agency Adoptions
Under Maryland Code of Family Law, Title 5, Subtitle 3a, private agency adoptions occur when a private entity places a child for adoption. Before placing any children for adoption, these private agencies must obtain a license from the Social Services Administration of the Department of Human Services. Though it is possible for a parent — or in certain cases a family relative — to place a child for adoption without a state license.
Independent Adoptions
Under Maryland Code of Family Law, Title 5, Subtitle 3b, independent adoptions generally occur directly between the natural and adopting parents. Traditionally, the natural parent consents to the adoption. Then both parties negotiate the terms of adoption, often with the assistance of legal counsel.
In limited situations, independent adoption can occur even without the consent of a natural parent, as detailed in Maryland Code of Family Law Section 5-3B-22. Referred to legally as nonconsensual adoptions, this process is usually reserved for extreme situations, such as child abuse or neglect.
Let Us Help You Today
If you need legal help with the adoption process in Maryland, it can be acutely productive to contact a well-practiced family law attorney. The Bel Air adoption attorneys at Schlaich & Thompson, Chartered have more than 60 years of combined legal experience in family and criminal law, including adoption. If you need legal help, contact us today for an initial consultation.
https://www.stclaw.net/child-visitation-rights-under-maryland-family-law/