What are Natural Guardianship Rights for Maryland Parents?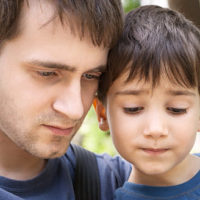 Under Maryland family law, natural birth parents have special rights and duties concerning child custody, care, and support. Referred to legally as natural guardians, parents are required to provide adequate care and support to their children. Even if the natural parents never married or completed a divorce, these rights and duties apply nonetheless.
Natural Guardianship
Under Maryland Code, Family Law Section 5-203, a minor child's birth parents are considered the joint natural guardians. Though one parent can become sole natural guardian if the other parent:
Deserts the family;
Dies; or
Becomes incapable of satisfying parental duties.
If a minor child's parents are divorced or live apart, then a Maryland court may award sole custody to either parent or joint custody to both parents. In this context, both parents have an equal claim for child custody, other things being equal. And in making any custody determination, the state courts will always keep the child's best interests front and center.
Shared Duties
As joint natural guardians under Section 5-203, parents share certain powers and duties. From a legal standpoint, the parents are jointly and severally liable for their child's welfare.
In other words, each parent bears equal responsibility for their child's:
Care;
Education;
Nurture;
Support; and
Welfare;
Child's Residence
Under Maryland Code of Family Law Section 5-204, a minor child and parent typically share the same permanent residence, which is referred to legally as the domicile. If the parents live together — or there is only one parent — then the child has the same domicile as their parent(s).
Section 5-204 also addresses the situation where a minor child's parents live apart. In these cases, the child's domicile is the same as:
The parent with legal custody over the child; or
If legal custody was not determined, the parent with whom the child currently resides.
On a related note, Section 5-204 also deals with the domicile of a minor child who does not live with either parent. For these children, their domicile is the same as the person who has parental responsibility as a guardian or custodian.
Services & Earnings
As natural guardians Maryland Code of Family Law Section 5-205, parents have a right to the services and earnings of their minor children. Furthermore, a parent have claim an exclusive right to these services and earnings if:
One parent has legal custody of the child; and
The other parent died or abandoned the child.
Otherwise, both parents will have a shared right to the services and earnings of their minor child, divided equally as joint natural guardians.
Let Us Help You Today
If you have legal questions about parental rights or other facets of Maryland family law, it can be highly constructive to contact an adept family law attorney. The Bel Air divorce attorneys at Schlaich & Thompson, Chartered have more than 60 years of combined legal experience in family and criminal law, including parental rights. If you need legal help, contact us today for an initial consultation.
https://www.stclaw.net/what-happens-to-marital-property-after-a-maryland-divorce/