What Are 3 Mistakes You Should Avoid When Being Charged With Domestic Violence?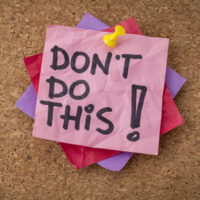 Going through a domestic violence case is challenging and stressful. But, one of the things that can make going through a domestic violence case much more difficult is making one of the three  mistakes outlined below. 
What Is Domestic Violence? 
The definition of "domestic violence" is as follows: crimes of violence that are committed by either a current spouse, former spouse, intimate partner, or a person who either shares a child with the victim or is currently cohabiting with the victim.
Within the state of Maryland, domestic violence is a crime. Some examples of domestic violence are as follows:
A former husband punching his former wife.
A woman who lives with another woman punching the other woman.
A man who shares a child with a woman kicking that woman.
Every single one of the examples above is considered domestic violence and, as such, is a crime. A crime that, if the individual who committed the violent act is committed, can lead to anywhere from a probation charge or, if what occurred was particularly violent, up to 25-years in prison. 
What Are 3 Mistakes You Should Avoid When Being Charged With Domestic Violence? 
No matter the alleged domestic violence that was committed, or the criminal charges that an alleged abuser has been threatened with, there are certain mistakes that no accused individual should make. By being aware of these mistakes, it is much easier to avoid them and the consequences that they can bring.
Mistake 01: Violating A Protective Order 
Right after an accusation of domestic violence has been made, it is not uncommon for the individual accused of domestic violence to have a protective order issued against them.
A protective order is used to prevent one person from taking a particular set of actions that relate to another person that may, or may not, have been negatively affected by a person's actions.
With this definition in mind, a failure to abide by a protective order can be a violation of orders from the court and, in turn, affect one's ability to prove their innocence in a domestic violence case. 
Mistake 02: Reaching Out To The Victim 
Everything that someone says, throughout a domestic violence case, can, and will, be used against them. Even the most innocuous text messages or comments can serve as evidence to prove that domestic violence has occurred.
Rather than reaching out to the victim, an accused individual should stay away from that individual.
To go along with the above, even if an individual proves their innocence, it is often wise to continue staying away from the individual who made the false domestic abuse allegations. 
Mistake 03: Not Hiring A Lawyer 
Going through a domestic violence case is a challenging, stressful process. But, going through a domestic violence case without a lawyer is even more challenging and stressful, due to the complexities of the legal system.
Rather than going through a domestic violence case alone, an accused individual can, and should, hire a domestic violence lawyer that will assist them with the case. 
Are You In Need Of Legal Assistance? 
Domestic violence accusations are serious business and, in order to secure your freedom, it is always wise to speak with a Maryland domestic violence lawyer.
We, at Schlaich & Thompson, possess more than 60 years of combined legal experience in both criminal law and family.
We can assist you in obtaining the best possible legal outcome no matter the domestic violence case you are dealing with.
Sources: 
law.cornell.edu/wex/domestic_violence
peoples-law.org/cat/domestic-violence
law.cornell.edu/wex/restraining_order