Examining 4 Elements Of Robbery Crimes Under Maryland Law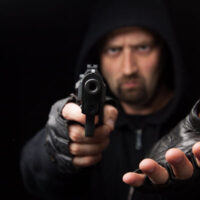 Robbery is a common law crime that involves unlawfully obtaining another person's property by way of force or the threat of force. As a reminder, robbery is a felony crime under Maryland Code of Criminal Law Section 3-402. Upon conviction for this offense in Maryland, the applicable punishment includes a maximum prison sentence of 15 years.
Under Maryland Code of Criminal Law Section 3-401, robbery retains its common law definition but also:
Includes the obtaining of a service from another person, using force or the threat of force; and
Requires proof of an intent to withhold property permanently or under other circumstances that deprive the owner of the property.
Taken as a whole, robbery in Maryland involves using force or the threat of force to unlawfully obtain property or a service with the intent to deprive.
To illustrate what qualifies under this definition, the following sections will explore four factors to examine to determine whether a statutorily defined robbery has occurred under Maryland law: (1) Unlawfully Obtaining, (2) Property, (3) Service, and (4) Intent to Deprive.
Unlawfully Obtaining
In the context of robbery crimes, Section 3-401 establishes the definition of unlawfully obtaining property or a service. Under this section, obtaining something in this manner refers to:
Property C Unlawfully conducting a transfer of interest in or possession of the property in question; or
Service C Unlawfully securing performance of a service.
Property
For the purposes of robbery offenses, Section 3-401 defines what qualifies as property. Under this section, the term property refers to anything of value, which includes but is not limited to:
Money;
Real estate;
Commercial instruments;
Admission tickets;
Transportation tickets;
Things growing on, affixed to, or found on land;
Things part of or affixed to any building;
Electricity, gas, and water;
Food or drink;
Sample, culture, microorganism, or specimen;
Wildlife typically kept in state confinement;
Records and recordings or similar documents; or
Written instruments concerning anything of value.
Service
For the purposes of robbery offenses, Section 3-401 also defines what qualifies as a service. Under this section, the term service includes:
Labor or professional services;
Telecommunication, transportation, toll facility, or public utility services;
Entertainment, lodging, or restaurant services; and
Computer, data processing, or other equipment services.
Intent to Deprive
An intent to deprive under Section 3-401 refers to the withholding of another person's property:
Permanently;
For a period of time that appropriates at least part of the property's value;
To hold as ransom and only returned upon payment or similar compensation; or
To dispose of the property or deal with the property in a way that makes recovery unlikely. 
Contact Us Today for Help
For help with your case, contact the skilled Bel Air robbery attorneys at Schlaich & Thompson, Chartered. We are eager to assist you today.