3 Components Of Joint Custody Agreements Under Maryland Family Law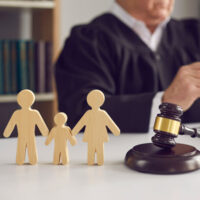 In Maryland and many other jurisdictions, child custody is an extremely important consideration for divorced or unmarried parents. In many cases, the parents are able to construct a joint custody agreement that is mutually agreeable to all parties involved. But if the parents are unable reach mutual agreement, the Maryland courts may intervene and dictate certain aspects of child custody
Ultimately, the needs of the children and parents involved will dictate the parameters of any joint custody agreement. Though in common practice, these agreements will ordinarily include the three components explored below.
Decision-Making Authority
The authority to make decisions on the child's behalf is one of the most important aspects of joint custody agreements. Instead of assigning sole responsibility to either parent, both parents will make decisions together.
Decision-making authority typically involves the ability to determine the child's day-to-day affairs and routine with respect to:
Medical treatment;
Psychological wellbeing;
Education;
Religion;
Extracurricular activities; and
Similar considerations.
In many cases, joint custody arrangements require unanimous consent from both parents. In other words, the parents must reach agreement amongst themselves concerning education or religion. Though in certain cases, a joint custody agreement may assign tie-breaking authority to either parent, specifically or universally.
Communicating & Sharing Information
Effective joint custody agreements will likely include provisions that govern how the parents will communicate or share information.
On the communication front, it is vital for parents to talk with each other about their child's wellbeing, particularly from an emergency standpoint. By agreeing on their preferred communication method (whether that involves in-person, telephone, or electronic methods) parents can stay on the same page with respect to child care responsibilities.
Information sharing is also paramount in the arena of joint custody. To make effective decisions on behalf of a child, it is generally necessary for parents to share access to and information regarding medical, school, or child care records. Information sharing is also important in the sense of listing emergency contacts or change of address.
Allocating Parenting Time
Parenting time can be one of the trickiest aspects of joint custody agreements. After all, both parents generally want to spend as much time as possible with their children. As a result, a fair and equal division of parenting time can help ensure a long-lasting arrangement.
Although each joint custody agreement will be unique, the list below includes a number of commonly used schedules for parenting time:
Regular Weekday Schedule – Assigns parenting time for regular weekdays during the school year that are not classified as school breaks or holidays;
Regular Weekend Schedule – Assigns parenting time for regular weekends during the school year that are not classified as school breaks or holidays;
School Break Schedule – Assigns parenting time for school breaks, including winter, spring, or summer periods where school is not in session; and
Holiday Schedule – Assigns parenting time for major holidays, such as Thanksgiving, Memorial Day, or religious holidays.
Contact Us Today for Help
If you have legal questions about joint custody agreements, contact the Bel Air divorce attorneys at Schlaich & Thompson, Chartered. We are eager to assist you today.